A comprehensive checklist of how you should market your practice.
3 Foundational Pillars for Practice Growth:
Medical Practice Marketing is built on the 3 foundational pillars for Practice Growth which takes into account everything that is important in the todays business environment. There are linkages to each and everything we do, but combined these will set your practice on a path to growth.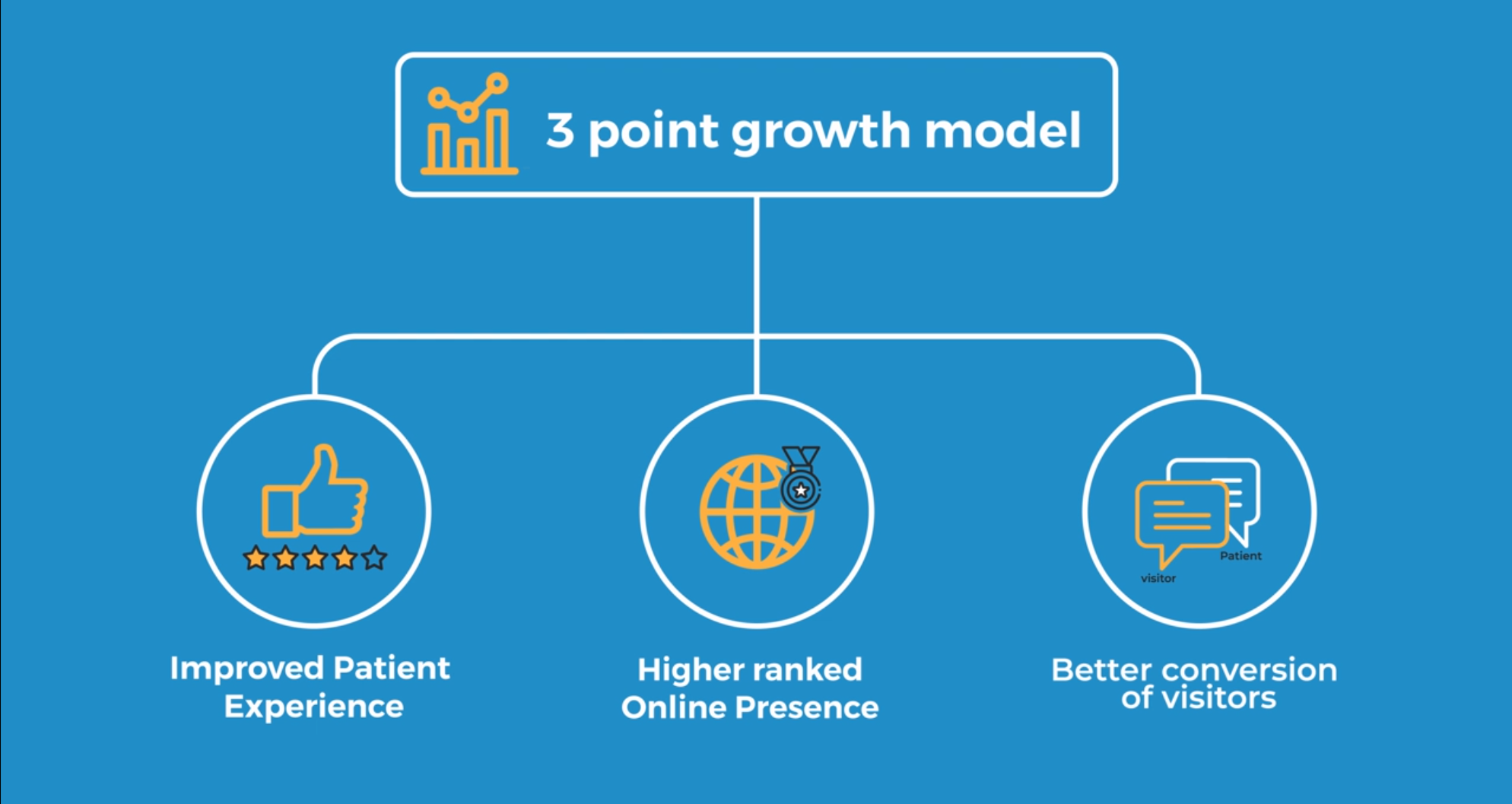 1. Web Appointments
2. Online Forms
3. Benefit Verification
4. Web Chat
1. Modern Web Design
2. Search Engine Ranking
3. Brand Reputation Management
1. Social Media Advertisement
2. Digital Signage
3. Ongoing Measurement
Medical Practice Marketing Template
Web appointments is a convenient way to make it easy for the patients to book an appointment online. Web Appointments make it easy for Patients to pick a time and pay for appointment upfront if they opt to do so. For this, it is important to have a simple and powerful appointment booking and scheduling system that will help to take and manage appointments with ease. It also lets you accept payments through integration with Online Store for a truly end to end booking experience. Some of the features of these Web Appointment tools are: Adding unlimited number of calendars for providers in the practice, collect extra information with custom fields, custom availability time slots, customizable emails sent to you and your customers, and setup sales, discounts & coupons.
Online Forms are forms which are fillable on the website which provides a modernized way for new patients registration process. Online Fillable Forms improve efficiency, Patient experience & Collections. Online Forms hosted on your website automatically requests eligibility data when a new patient registers and automated process provides timely information. Online Fillable Forms are a great way to generate automated workflow. Users just need to simply add new patients to the workflow and the system will do the follow up for completion, also customized forms collect all pertinent information as well as consents & waivers. They can also check for HIPAA Compliance.
Benefit Verification makes it easier to set the right expectations with your patient on their payment amounts and coverages. That in turn makes for a great patient experience. It's the best in Class Online Eligibility Search and a follow up service for the payers who need to be called. It is an effective and efficient way to automatically request eligibility data when a new patient registers and automated process provides timely information, which reduces 90% of the staff time and provides 100% payer coverage. Complete Patient Benefit Verification takes less than 24 hours., thisensures that you have information prior to patient walking in for an appointment.
Text Based Communication is a way to improve online conversions and growth of the practice. Someone being able to to answer questions about the practice when they visit the website will help you in increasing conversion by upto 25%. More Traffic – increase the coverage to 24 Hours a day, 7 days a week. As chats come in and are sent over to the front desk to schedule the appointment, it all gets tracked. It becomes super easy to track your RoI and how many patients Live Chat is bringing in.
Medical Practice Marketing Template
2: Search Engine Optimization
Search engine ranking is the position at which a particular site appears in the results of a search engine query like Google or Bing. For Medical Practices it is essential to achieve a higher rank in search engines and adequate positive reviews.
The goal here is two fold. First – Get more prospective people looking for a doctor in your area to be able to find you first and then present yourself in a positive light so they consider you when comparing you to other providers in the area.
Modern website for your practice tells the online prospects that you have a professional approach to managing your practice. Modern features reinstate the belief that you are an adaptor of new technology not only in your website but the way you practice medicine. Those are important first impressions.
Contemporary Website designs are built to show up beautifully on large desktop screens, Tablets and Mobile phones. Conveneince features like scheduling an appointment using your website or sending a live chat message and getting the information they need quickly all help with that. Patient Center, FAQ pages, ability to take online payments – all build for a great way to leave the correct impression.
Search Engine Optimized pages & content is another vital criteria to rank higher in local search results, which is often done by a SEO. SEO not only optimizes rankings for your practice but also benchmarks and adjusts strategy based on what your local competition maybe doing. The Medical Practice Marketing Template's SEO model incorporates 13 unique steps while taking into account the current performance as well as expected targets to make sure your website keywords & meta tags stay up to date. The strategy focuses on improving results for the practice in local geography of where the practice operates. That balances cost with performance.
Review Management or Brand & Reputation Management makes it easy for patients to provide reviews. It is vital to provide tools to patients for them to give reviews but also make it incredibly easy for them write. Proactively managing reviews provides a comprehensive dashboard with statistics to help stay in control and drive better ratings to fuel the growth for the practice. Responding to good reviews builds more equity when other patients find you but responding to negative reviews in a professional manner is critical. Working with teams of professionals is important to make sure that bad reviews are addressed and managed in a timely manner.
Medical Practice Marketing Template
3: Marketing and Improving Conversions
Marketing and Improving Conversions is all about reaching out to the right audience and improve engagement. It is achieved by mainly advertising the practice on Google & Social Media, having a digital signage and communicating via 24/7 live chat or social media engagements.
Advertising the practice on Google & Social Media or otherwise knows as digital marketing is achieved by having a strategy for the business, defining objectives and timelines. By analyzing the current demographics of followers, engagements and using trending topics to engage your followers is a great way to keep the audience intact. Making posts or creating content is a small and important part of managing the online marketing. And lastly, it comes down to measuring and monitoring monthly progress and improving strategy going forward.
Digital Signage is a cost effective practice solution that provides a customized opportunity to educate your patients. Key features of digital signage is web based management and auto live updates. All it needs is a Roku or Amazon fire stick, an internet connection and a person's favourite display. By controling the content schedule of each display and customizing by time of the day and by room or area to provide customized content to be displayed you can show image slideshows, infographics and video playlist to help the customers
Ongoing measurement, analysis and corrective actions are the last yet the most important aspects of driving growth in your practice. Here are a list of measures that you need to monitor,review and continuously change your strategy to drive growth in a highly competitive and dynamic environment:
Website Analytics – Google My Business, Google Analytics and Google Search Console are three great free tools. Make sure your website is linked properly and you can see the traffic data, how people are finding your site, which pages do they land on, how much time they are spending on each page, which pages are the ones where they exit the site and so on
Reputation / Reviews: Are you collecting all reviews that are provided for your practice? There are a lot of popular sites on which reviews are provided. Examples are Google, Bing, Yelp, HealthGrades, Vitals, Facebook, WebMD amongst the most popular ones. Being able to respond to reviews, especially bad ones within 24 hours is crucial.
Social Media Analytics: All of your social Media profiles like Facebook, Instagram, Twitter etc provide you with information you can use to understand your audience and do better based on the results you see. Make sure your accounts are stup properly (Business Page or Business accounts) so you can monitor them.
Email Campaign Management: If you run email blasts to your audience it is important to know how many people are opening those emails, how many actually click on a link or information you are sharing. Again – helps in improving engagement which will help you get your patients become your biggest advocates.
Practice Tech offers an integrated dashboard which captures all of the analytics data, trends and insights in a beautiful web format available 24×7 to all our customers.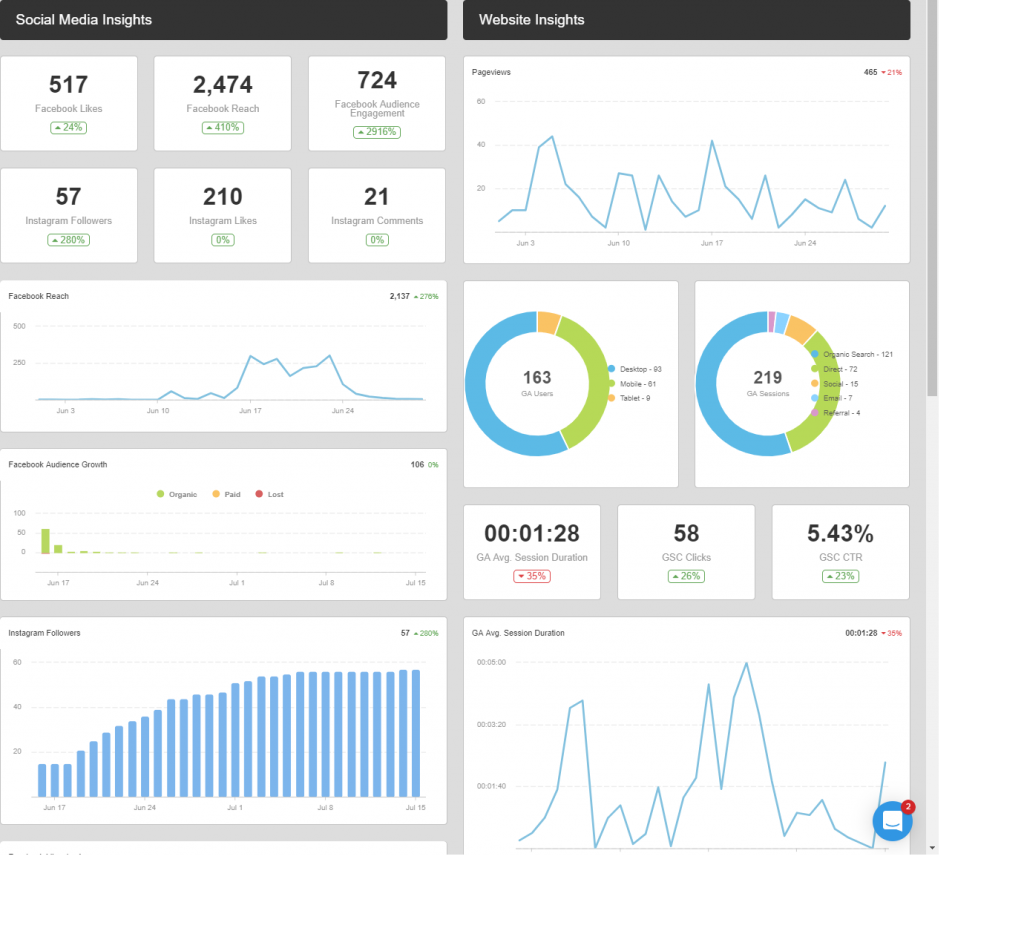 Still have questions? Comment below and we will answer them.