SEO for healthcare practices is something that many healthcare providers take for granted. You may create the most visually pleasing website with the most interesting, expert content. However, you could still find your website accumulating dust on page 3 or 4 of search engine results if SEO is neglected. 
If the above terminology is overwhelming, don't worry, we will explain more in detail in the sections to follow.  
In this article, we will explore what SEO for healthcare services entails and the benefits it can bring to your practice as a whole. 
In this article, we will explore what SEO for healthcare services entails and the benefits it can bring to your practice as a whole. 

What is

SEO for healthcare services

?

 

5 reasons how

SEO for healthcare services

can boost your medical practice

'

s patient flows

.

3

How can I improve

SEO for my healthcare services

w

ebsite?

4

What are the benefits of using a digital marketing agency for healthcare SEO services?

 

Where do I find a digital marketing agency with healthcare SEO services?

 
What is
SEO for healthcare services?
Medical SEO or Healthcare SEO refers to search engine optimization (SEO) services digital marketing agencies provide to healthcare businesses such as clinics, medical practices, etc. Healthcare SEO (Medical SEO) helps healthcare businesses to become more visible on search engine results for potential patients.
With regards to search engine results rankings, the lower the ranking, the fewer people will enter the website.  
Google still remains the most popular engine according to the latest research at the time of publication
It becomes clear after scanning through the stats above, and perhaps a little obvious from a user point of view, that rankings play a vital role in the amount of traffic that flows to a website. But how do you get your website to rank higher? 
Before we delve into the technical aspects of SEO and how your healthcare website should rank higher, let's first consider some of the reasons and explore if the juice is really worth the squeeze. 
5 reasons how

SEO for healthcare services
can boost your medical practice's patient flows
1.Become more visible, attract more patients
The statistics made it very clear- the higher you appear on search engine results, the higher the probability of someone clicking on the link and landing on your page. Now that you have a visitor, you want to keep them there, and there is nothing that makes a visitor run faster back to search results than slow loading time or erroneous pages.
Your website health plays a vital role in SEO and the amount of time visitors will stay on your website. If you want to do a quick diagnostic test on your website to see if it is performing the way it should (bug-free), click here for a FREE website health check.
2. Boost your credibility through higher SERP rankings
There is a correlation between search rankings and the perception of credibility in the general population. People will automatically assume that results on page one is more credible than those on the later pages.
So not only will people rather click on the higher ranked pages because they are more visible, they will enter those pages with a higher order of trust, which makes them more susceptible to using your services.
3. Strengthen referral leads through higher SERP rankings
The average potential patient is less likely to take a referral from a friend or other provider on face value in modern times. Even after referrals, whether word-of-mouth or by another provider, what they find online will still influence their decisions.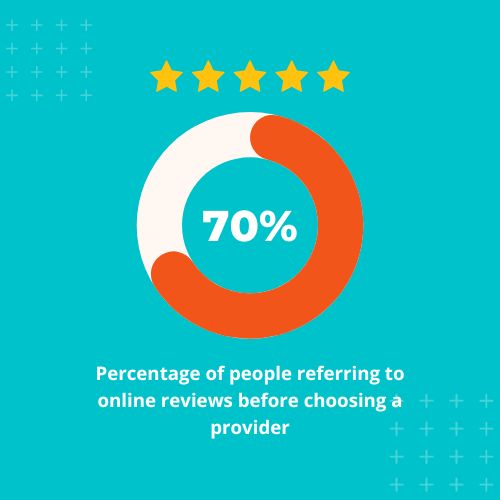 Other sources reveal that this percentage can go up to 73%. Now imagine a potential patient searches for the provider they were referred to by an acquaintance or a physician, and they are struggling to find the website, or worse, they enter the website only to wait forever for the page to load. 
Immediately, frustration will kick in, accompanied by a feeling of distrust. SEO for healthcare service can ensure that the vetting process of potential providers go smoothly and uninterrupted to ensure hot leads come your way.  
4. Improve the patient experience with SEO 
Modern consumers (which includes potential patients for practices are influenced by instant gratification. Whatever they are searching for, they want it as fast as possible through minimal effort.  
The patient experience is no longer solely centered around excellent medical care by the provider but includes every point of contact, pre-and-post consultation. Long before they even contact the practice, they already start building a perception of the service they expect. 
SEO for healthcare services, which improves search rankings and website functionality, can improve the first point of digital contact, which will already score your practice some points from a patient experience point of view. 
5. Improved ROI with high-quality, cost-effective leads 
SEO is more affordable than traditional marketing methods. Once the site is optimized, it will slowly climb up the ranks and continuously generate traffic without the need for additional expenditure. Unlike pay-per-click ads (PPC ads), there isn't a constant investment required to generate leads. 
Organic leads (people that search through SERPs to find what they are looking for) are of a higher quality and know what they are searching for. That means that once they enter your site, they are more likely to turn into conversions. 
How can I improve SEO for my healthcare website?
Pleasing the search engine algorithms to reward you with a higher ranking on the results page isn't an easy feat. You can take the time and spend a vast amount of time to upskill yourself or an employee to learn the tools of the trade, but what works today may not work tomorrow. 
The algorithms are constantly updated, and according to research done by Backlinko, Google uses over 200 factors in their algorithm for ranking websites, and these are some of the best-kept secrets on earth.  
That is why it is better to invest in a healthcare digital marketing agency with dedicated experts in the field of SEO that can optimize your website and provide in-depth progress monitoring and reports on key metrics and possible improvement strategies. 
Where do I find a digital marketing agency with healthcare SEO services?
It is important that you, as a provider, select an agency that solely services the medical industry. Read more about why you should rather use a healthcare SEO company instead of a standard run-of-the-mill digital agency by clicking here
Practice Tech Solutions The Best SEO Agency in Illinois 2022 by SocialAppsHQ. We have been focusing on medical practices exclusively for over ten years.  
Get the heart and soul of your digital marketing strategy healthy and SEO optimized with minimal investment by experts in the field with a proven track record.  
To get your FREE WEBSITE HEALTHCHECK, or book a meeting to discuss any questions you might have regarding SEO for healthcare services, click here or contact us on the platform of your choice