Text Messaging and Being HIPAA Compliant
Today, many doctors use mobile messaging as a useful tool to collaborate, communicate with coworkers, organize appointments, and even send test findings to patients. Patients rely on smartphone apps for appointment scheduling and updates and, thanks to the rise of telemedicine, technology is also being used for ongoing care coordination and opioid control.
Without a doubt, the security of transmitted patient data is a top concern with the rise of text messaging within the healthcare industry. The HIPAA provisions were, of course, developed specifically to protect confidential patient data and to control the processing of personal health information (PHI) by the agency involved. Thus, any entity covered must have measures and policies in place to restrict access to PHI only to authorized users. As well as for third parties constituting business associates who may not comply with HIPAA, Business Associate Agreements (BAAs) should be put in place to keep third parties responsible for the security of the PHI to which they have access.
PHI's electronic communication through cell messaging or text message is not resistant to HIPAA and BAA requirements. Rather than prohibiting mobile messaging, HIPAA requires covered entities and business associates acting on their behalf to implement administrative, physical, and technical safeguards when transmitting or storing electronic PHI (ePHI). HIPAA does not recommend specific safeguards to protect the ePHI sent via mobile messaging – opening up a myriad of security risks to many healthcare organizations and their patients. HIPAA's Privacy Rule states that it is a fact-specific determination whether a use case involves HIPAA and BAAs (or falls within limited exceptions). Technology evolving means the development of factual scenarios. Instead of merely relying on HIPAA's interpretations of vendor partners as they relate to new facts, innovative companies should focus on ensuring best practices for assessing and mitigating the safety risks associated with PHI transmissions. HIPAA's Security Rule provides a useful framework for evaluating and mitigating ePHI-related risks.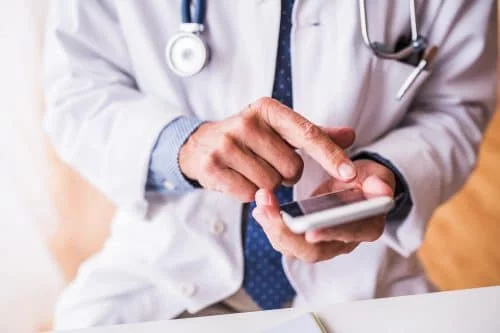 Critical technical safeguards included in the HIPAA Security Rule that are worth reviewing before any ePHI is messaged include the following controls: unique user identification, automatic logoff, encryption/decryption, auditing, integrity management, authentication and security of transmission. An analysis to determine risk where ePHI lives within the organization and what risks threaten it (e.g., natural disaster, malicious breach, employee negligence, etc.) is equally essential to ensure that all ePHI stays HIPAA compliant during text transmissions.
Mobile messaging also provided a quick and cost-effective way to communicate with ePHI. As a result, text messaging solutions specifically designed for healthcare organizations will remain on the market; however, it is imperative that the various risks arising from mobile messaging vulnerabilities be recognized. Take the time to assess the corresponding risks and establish a thorough security protocol to ensure compliance with HIPAA before leveraging text messaging to optimize your healthcare organization's efficiency. In doing so, the potential for unauthorized use or disclosure of ePHI may be avoided, and the threat of devastating data breaches may be significantly reduced.