Best Guide to Build a High-Performing Medical Website
Building your medical website
Medical Practice Website 101 Guide
Building a medical website for any business is about impressing the world with what the company is about, what is so different about us, our passion, our expertise, and most importantly – for our customers to find us and want to work with us.
In today's day and age, for a lot of independently owned medical and dental practices- getting patients to find them and then want to come to a good doctor for treatment is dependent on how good a job your online presence does (your website being a vital component of that). 
Let's face it – if your website is not optimal and you cannot attract the patients who look for you online – is it even worth spending any time/money on your website? I mean, pragmatically – I might as well give up on this online madness and stick to getting new patients through actual referrals. 
But what if you are a few who are seeing a lack of younger patient demographic mix or can't figure out why your new patient volume keeps decreasing?
While building a strong positive online presence is a multi-faceted project, your website is the basic building block – and I think it is essential for every physician/ practice owner to remember the critical goal of a website:
"The website's goal is to make it easier for prospective patients to find you and want to visit you."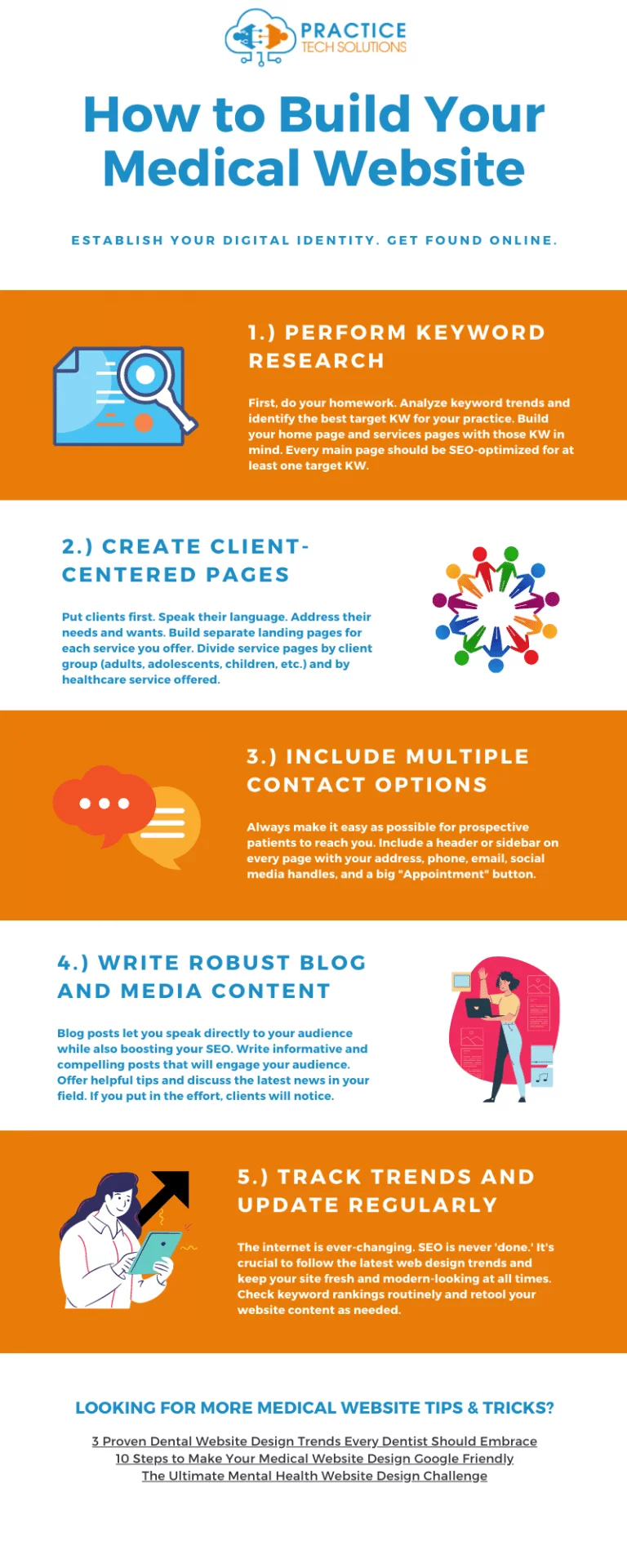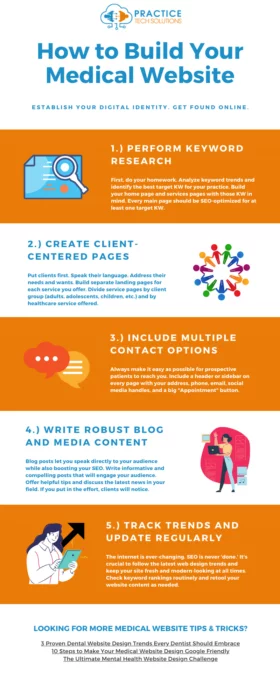 If you're in the medical field, you know how important it is to have an online presence. But how do you build a medical website that will help you get found online? Here are five tips:
1. Do your keyword research. Find out what terms potential patients are searching for, and ensure those keywords are included on your website.
2. Create client-centered pages. Your website should be designed with your patients in mind. Ensure it's easy to navigate and all the information they need is easy to find.
3. Include multiple contact options. Make it easy for potential patients to contact you by including your phone number, email address, and contact form on your website.
4. Write robust blogs and media content. Keep your website updated with fresh content by writing blog posts and creating videos or podcasts that potential patients find informative and helpful.
5. Track trends and update regularly. Stay up-to-date on the latest trends in the medical field, and make sure your website reflects those changes.
By following these tips, you can build a medical website that will help you get found online and attract new patients.
Before you build a medical website
Ask these questions when you start building your website:
What do patients typically search for when trying to find a doctor (in your specialization)?
Can they find me quickly based on the content I want to have/ have on my website?
How does that content rank in a local business search right now?
Are my good reviews visible to someone looking for the proper care you can provide?
A good website-building company can help you answer all of these questions and help you manage your search rankings by ensuring your website pages are "addressed" properly (the correct term is meta tags and keywords, but I digress).
Best Guide To Build A High-Performing Medical Website
A medical website should be designed to meet the needs of both patients and medical practitioners. The site should be easy to navigate, with clear and concise information readily accessible. The design should be clean and professional, focusing on delivering content in a way that is easy to understand. The site should also be mobile-friendly, as more and more patients use smartphones and tablets to access medical information. To ensure that the site is high-performing, it is essential to test and revise the content and design regularly. While all these things are crucial, we want to mention a few vital things for success in this endeavor.
1. Understand your target audience:
The first step to building a high-performing medical website is understanding who your target audience is. This will help you determine what kind of content to include on your website, what design elements will be most effective, and how to structure your site to meet the needs of your users best.
2. Choose the right web design:
The second step is to choose a web design that is both visually appealing and functional. Your website should be easy to navigate and include all the information your target audience wants.
3. Make use of search engine optimization:
Search engine optimization (SEO) ensures your website appears on search engine results pages (SERPs). Use relevant keywords throughout your site and ensure it is mobile-friendly to rank well in SERPs.
4. Use engaging visuals and medical content:
Users are more likely to stay on your website and engage with your content if it is visually appealing and informative. Use high-quality visuals like images and videos to break up your text and keep users engaged. In addition, make sure your medical content is accurate and up-to-date to ensure that users will trust your site as a reliable source of information.
5. Offer a great user experience:
Finally, offering a great user experience on your website is essential. Offering an excellent user experience on your website is critical. This includes ensuring your site loads quickly, is easy to navigate, and provides a seamless experience on all devices. If users have a positive experience on your site, they are more likely to return in the future.
Following these steps, you can build a high-performing medical website to attract and retain users. By understanding your target audience, choosing the right web design, and using SEO and engaging visuals, you can create a website that meets the needs of your users and helps you achieve your business goals.
It is also essential to understand that SEO or Search Engine Optimization techniques have to be an ongoing effort, as they are affected by changing trends of individuals and what they look for. However, SEO is also affected by what other local businesses do to enhance their online rankings.
We apologize for making it feel like a complex, resource-intensive project to get to the top of search rankings. It's not that difficult, but it is also not a one-and-done thing. Someone has to keep their eye on the ball to ensure rankings improve and don't slip. 
So, while it does not take an army of people working full time, a medical marketing professional spending 4 to 8 hours a month should do it nicely.
Updating after you build your medical website!
Ask about the ongoing support you should get for frequent website updates (search engines rank newly updated pages better), SEO assessment and modifying keywords and meta tags, backlinks, social media posts, look for local competition analysis – all of these will help you get better rankings over a 4-8 month period.
Positive Vibes?
So, now that we got patients to visit your website—which is great!—how do we articulate the positive experiences that your patients have had on the website?
Ask your provider to place a feedback banner that rotates your feedback from Google, Yelp, or other websites where patients may have rated you. We will cover the basics of building a positive reputation for your practice on another topic!
We hope these tips will help you get a handle on improving your practice's online reputation.
Remember, it all starts with a good website.