5 Medical Website Design Tips to Enhance User Experience
Building a website for your medical practice might seem like a simple decision. But what's less simple is figuring out how to approach your web design strategically.
Well, that's what user experience (UX) design is for. UX design is the process of building a website that is informative, user-friendly, and aesthetically pleasing all in one neat package.
In this article, we'll break down the basic principles of UX design and offer additional suggestions to help you design your website or reinvigorate the site you already have.
A strong, UX-optimized medical website design will allow you to present a consistent message, help build your reputation, and convert online visitors into patients at your front door.
Building a Website with Optimal User Experience
User experience design is the foundation of any professional website. It is all about seeing through the eyes of a visiting user and designing the site to suit the target audience: their concerns, standards, and needs.
A good method for assessing your website's UX is known as the User Experience Honeycomb.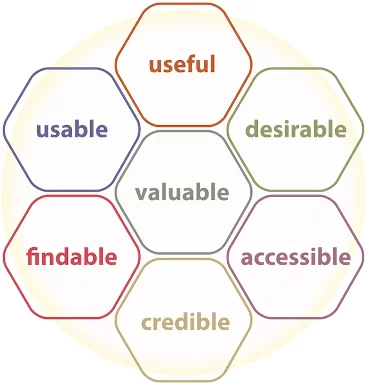 This diagram showcases the 7 facets of UX design. An optimal medical practice website will be:
Useful
Usable
Valuable
Desirable
Accessible
Credible
Findable
These 7 "-ables" together produce a structured, user-geared website that attracts the right clients to a practice.
To design your medical website for optimal user experience, consider these 5 tips.
Tip 1: Know Your Target Audience When You design your Medical Website
As intuitive as it may seem, knowing your users is the first step toward building a website with optimal UX design.
Take, for example, practices that treat opioid addiction. Prospective clients of these practices would, naturally, search for topics like "how to overcome opioid addiction." Knowing that you can tailor your content by focusing on those keywords or even directly addressing that question on your main page.
An EMDR therapy practice (Eye Movement Desensitization and Reprocessing) may well have a broad audience of potential clients. However, many people who could benefit greatly from EMDR therapy do not even know that such a treatment exists.
Hence, optimal UX would involve providing ample information on EMDR and the wide variety of mental health concerns that it treats.
As you can see, there are many opportunities for you and your medical practice to understand and respond to the needs of your users. UX design helps you refine your content strategy to match users' needs. It ensures that, once someone lands on your site, they find exactly what they are looking for.
Tip 2: Understand Inbound Marketing and Have a Content Strategy
Content strategy is a part of inbound marketing, which is one of the many things Practice Tech Solutions helps medical practices accomplish. Inbound marketing, simply put, is the process of drawing clients in with the content, SEO, branding, and so on.
Start by identifying keywords.
Direct relevant visitors to your practice website by pinpointing keywords they may search. The goal of a content strategy is to anticipate and respond to the questions and needs visitors may have.
So, when you design your website, you should be optimizing keywords to attract prospective clients.
After all, a medical practice website is supposed to drive traffic on a broad online landscape. On the internet, you can display your services to thousands—if not millions—of people.
However, simply having individual pages that display your services may not be enough. Don't forget that people Googling a health or medical issue are looking for concrete, factual information.
If they find your site and land on a service page that immediately tries to sell them something, this will give the impression that you only care about marketing to them.
To avoid this, design your content strategy based on keywords. Give visitors what they want: useful facts about your practice and services. This kind of inbound marketing is the first step in converting visitors into clients.
Content strategy is about building a website that is balanced and optimized for search engines and humans alike. Quality content will both help users find your site and hook them once they get there.
Tip 3: Include Location-Specific Pages
Since modern online platforms use location to provide users recommendations, location is a vital factor in inbound marketing and SEO.
If your practice has only one location, it should be relatively easy for you to optimize your location-specific pages when you design your website. Google, Bing, and Facebook all allow your practice to be easily discovered by local users.
With multiple locations, you may be tempted to gear your content towards a general audience without favoring one location over another. However, this is not the best strategy.
Instead, lay out specific pages for each location and let your content speak to each local audience directly. This will foster a sense of personability and lead to better user engagement.
The lesson here is simple. Write specific content for all your locations. Show your audience that you're a local, wherever that location may be.
Tip 4: Improve Keyword Relevance
Some people think that driving traffic is simply a matter of jamming as many keywords as possible into their pages and throwing them up on the web. Sorry to break it to you, but it doesn't quite work that way.
Keywords must be relevant. They must relate to the content of the page and provide useful information that your audience is looking for. A page overstuffed with keywords but with no clear keyword relevance will only insult your audience and drive them away.
Target different keywords per page. When too many different keywords populate a page, search engines can't decipher the subject. As such, your page won't be deemed a useful resource. No one will ever find it.
Pay attention to your site's relevancy score, which factors into a website's ranking. When you design your website, minimize distractions on your landing page and be aware that irrelevant keywords can be highly distracting.
The landing page has a singular purpose: to call a visitor to an action. Optimize keyword relevance and keep your landing page focused.
Tip 5: Provide HIPAA-Compliant Self-Service Features
When it comes to medical practices, user experience also means patient experience. Many patients prefer the convenience of online self-service features.
Offering self-service features on your site is a great way to boost UX while visiting users and patients alike. Self-service integration techniques include:
So long as these services are HIPAA compliant, meaning they take the necessary security precautions to keep patient information confidential, self-service can vastly increase UX while providing a great deal of relief for clients.
Online self-service is relatively new in the healthcare world. However, in light of COVID-19 and the sudden necessity of telemedicine, we anticipate a future filled with more remote health services than ever.
Practice Tech Solutions understands this rising need for telehealth solutions. We offer easy consultation and administration of HIPAA-compliant IT support and self-service healthcare options, as well as with any other aspect of building a website.
We optimize the user experience and design your medical website for your practice while you focus on what is truly important: your patients.