How to improve your Medical Practice Reviews
Recap: Why do we need Medical Practice Reviews?
In our previous blog post, we went into details of why reviews are needed by medical practices. Here is a quick recap.
Patients now have a powerful voice, access to critical information, and shared memory afforded by online reviews. While it may seem like this empowerment of the patient should come at a cost to businesses, in fact businesses have gained immensely, too. Consider what we as marketers and practice owners now get for free:
Our most trusted and effective marketing is being done for us by volunteers
Those volunteers surface more info about our offering than our own advertising can, and that helps differentiate it from the alternatives
The practice now serves multiple ends: creating patient satisfaction and broadcasting it to potential new customers
We get focused, real-time business intelligence to assist in quality improvement and competitive analysis
What we will cover in this post?
Not Enough Reviews
The Review Funnel Strategy
Stage 1: Create a Patient Funnel
Stage 2: Guide the Patient Through
Stage 3: Monitor & Respond to Reviews
How to respond to negative reviews
Conclusion
Lets try and breakdown the problem with most of the practices – the reason why online reviews look bad on average is that there are not enough people reviewing the practice. The ones that do are highly motivated to write bad reviews (majority) or good reviews (statistically – a minority). Statistically – 90% of the typical US consumers read online reviews, while only 6% are writing them.
The trick is to make sure that your happy patients know you value reviews and encourage them to create them.
How to improve your Practice Reviews
The Review Funnel Strategy
A review funnel strategy can make use of multiple tactics, channels and assets (human, print, email, Web, mobile, etc.), but the formula is simple:
Provide a way for businesses to ask and remind patients to share their experience online
Drive patients to an asset or destination that's designed to convert them into reviewers
Guide each reviewer through selecting the best possible review site and completing a review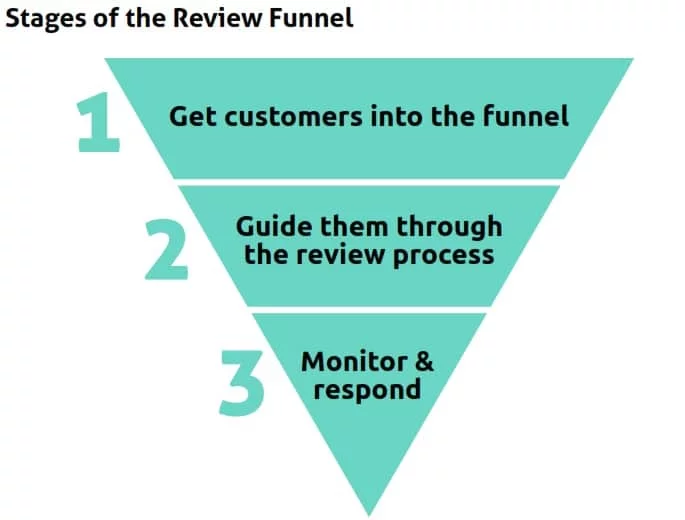 As we've seen, happy patients who intend to write a review still won't do it if (1) they forget; (2) it's too hard; or (3) they're too busy.
Practice Tech Solutions provides a flexible and turnkey print/online review funnel system that serves these functions for a wide range of scenarios and businesses. There are also several excellent competing solutions. But if you're the hands-on type, you'll find that everything presented here is doable yourself without any vendors or third-parties.
Implementing a patient review strategy is not about buying a solution from a vendor or deploying a specific tactic. These things can help, of course, but getting more positive reviews from real patients requires a commitment from the practice itself that no technology solution can provide.
In the end, winning the reputation game is about "understanding, delighting, connecting with, and serving patients." As local SEO guru Mike Blumenthal put it during a recent webinar, marketers who count reviews as a measure of success are using an "ass-backwards" metric. "The right metric," he says, "is customer satisfaction."
The "review funnel" strategy presented here is aimed at building a virtuous circle of patient satisfaction and patient reviews. I believe that it's the only proactive way to do reputation management with integrity and foresight for the long term. 
Stage 1: Create a Patient Funnel
As we've seen, a patient's motivation to write a review is typically weak at best. Unless she's a "superuser" or just had an awful experience (remember the "adverse reviewer" problem?), she's not likely to even think of writing a review. Not to worry, though. You can help. Here's how:
Invite patients to give feedback
Craft the right message
Offer an incentive to engage
Invite the Patient to Give Feedback
When Fox Business recently interviewed several hotels and inns for insights on how they achieved 5-star ratings on TripAdvisor, all of them had just one practice in common:  they invited guests to write reviews, whether with a sign or takeaway at the front desk, a handwritten thank you note sent after their stay, or a follow-up email.
It's amazing what effect these simple prompts have. If you collect patient information such as an address, email or phone number, you might send patients a message after a transaction inviting them to give feedback about their experience:
"Thanks for choosing us. We'd like to invite you to share your experience with us. Your feedback not only helps us, it helps other potential patients."
"If we've served you this month, thank you for the opportunity! We'd love to hear about your experience, and no doubt others would, too…"
When business transactions happen face-to-face, however, such as at a restaurant or doctor's office, we like to arm the business owner (or server, or front desk) with printed review "invites":  small takeaway cards with friendly messaging to encourage and remind the patient to write a review.
Craft the Right Message
Asking for patient reviews can be extremely effective, but getting the ask right is a highly nuanced affair. Note that in the examples above, we've diligently avoided solicitous language and opted for the softer "invite" over the harder "ask." No matter how you do it, encouraging patient reviews should always be low-pressure to avoid putting patients off or risking a possible backlash.
When developing your own message, remember that happy patients generally want to help others find good products and services (altruism) and they want to help business owners who served them well (reciprocity). Of the many motivations that drive patients to write reviews—highlighted in the chapter Why We Write Reviews—these are the safest to draw on.
"Help us. Help others. You're invited to review…"
It's important to craft a message appropriate to the practice, and to train any staff who might be delivering that message. For example, we work with some doctors and medical practices who initially recoiled at the idea of asking patients for reviews—the idea seemed to them to compromise the sanctity of the doctor-patient relationship.
But increasingly, patients rely on sites like Vitals, Healthgrades and RateMDs to choose among healthcare providers, so doctors and medical practices recognize that even by choosing not to participate in managing reviews, they still cannot get away with how other patients review them. Their only hope is to engage in the process and make sure that the right outcomes are presented.
For reviewers, though, the right message is never about patient reciprocity or doing the doctor a "favor." It's about helping other patients:
"Your feedback helps other patients like you find the best care online."
Offer an Incentive to Engage
Before the most conscientious among you cry foul, I don't mean to suggest that you ever offer an incentive in exchange for a positive review, a practice that is not only unethical, it violates the terms of service on many review sites and may lead to you getting banned, flamed and publicly shamed.
But you might offer a no-strings incentive to get patients a step further into your review funnel. For example, our clients can attach an offer to the landing page they drive patients to. It's simply a way of getting more people to the page. The offer—maybe a discount coupon or a free download—is available to anyone, whether or not they post a review. But making the offer available there, on a page otherwise designed to guide patients through the process of submitting a review, increases the odds of getting that review
How to improve your Practice Reviews
Stage 2: Guide the Patient Through
THE REVIEW PROCESS
The patient is ready to take the next step in your review funnel.
But wait! What's the next step? What are you actually asking patients to do? Where are your invites driving them? To the company website? To a review site directly? Somewhere else?
The ideal review funnel solution is one that gets patients leaving reviews where they count the most:  on the third-party sites others use to discover, evaluate and compare companies, products or services like yours. No doubt you care about more than one site, and which sites you care about will change over time.
We've developed the following simple approach to be future-proof as well as easy to adapt and maintain over the long term:
Drive the patient to a landing page you control
Focus the patient on leaving a review
Help the patient select a review site and complete their review
Drive the Patient to a Landing Page You Control
Over time, new review sites and communities rise to prominence while others fade away. Google's algorithm creates new winners and losers. And the digital fortunes of any particular business can turn on a dime, including its visibility, rank and reputation online.
By creating a review funnel landing page online and driving customers to it, you effectively decouple the tactics of asking for feedback from the specifics of where and how that feedback is collected. If you're always driving customers to the same place, you can shift the focus of your review-getting effort as easily as tweaking that page. The business rules never have to change.
To accomplish this decoupling, you will want your landing page(s) to have the following:
an unchanging and easy-to-remember URL that you can use across media, such as in printed handouts or in a QR code posted at the point of sale
a mobile-friendly design to ensure that if and when you promote the page to users of mobile devices (such as with a QR code), those patients can access it
In the sections that follow, we'll discuss what belongs on a landing page, and how it converts patients into reviewers.
Focus the Patient on Leaving a Review
Remember, our goal is to make it easier for patients to write a review. We want to capitalize on their intention to do so, however weak that intention may be. In this delicate situation, any distraction or loss of focus can hinder the patient's progress or lose them entirely.
Many marketers understandably want to drive patients to their own or the practice website, since that's an asset they already own and control.
Still, you're going to want a landing page dedicated to collecting customer feedback, whether you build it yourself, use one created by us or embed a reviews widget on an otherwise empty page of your practice website. The last thing you want to do is divert the attention of someone who's about to give you an uber-valuable review to looking at the holiday party pics or latest blog post instead!
You will want your landing page(s) to:
focus exclusively on reviews and be stripped of all other calls to action—possibly even the site navigation
reinforce and elaborate the message that brought the patient to the page in the first place
Perhaps the most important components of your landing page, though, are the assets you use to send patients on that final push through your review funnel.
Help the Patient Select a Review Site and Complete Their Review
Since we're primarily concerned with generating patient reviews on important review sites, any landing page will consist of links to business profiles on those sites, where the goal is to move the patient along with the highest likelihood of their completing a review. Here are some ready tips to get more patients clicking through your links with the greatest momentum:
Offer choice but not too much choice: link to just a few sites at any one time to avoid overwhelming the patient with options.
Visually highlight the site(s) you care most about by using a larger size, different color and higher position on the page.
Help the patient identify sites that accept an alternative login, such as a Facebook or Google+ account. (People hate creating new accounts!)
Educate reviewers onsite (briefly!) about the review process for each site so they know what to expect.
Finally, be sure to provide unsatisfied patients an alternative to posting a neutral or negative review, such as an email address, phone number or Web form that they can access 24/7. If the business has an active social media presence, directing the patient there can offer heightened attention and transparency to their issue, while keeping it's long-term public visibility to a minimum.
Stage 3: Monitor & Respond to Reviews
I've said that turning patient reviews into an effective marketing channel is about being:
proactive with respect to getting patients to share the word about your business on review sites; and
responsive by addressing reviews publicly or privately when they don't reflect the reputation you aspire to
Monitor Reviews
To make reputation creation work for you, you have to be attentive. You need to know what people are saying, good or bad, about your business or the business you work for. And to the extent possible, you need to take in and evaluate those opinions, and act on what you learn. It's a tall order!
There are tools to make it easier. If you're a marketer with a full stable of clients or a business owner with exactly zero minutes a day to devote to this, you'll want to engage an automated review monitoring service to help you keep track of what's being said on review sites.
Respond to Reviews
Not every review site allows businesses to respond, but you should certainly take advantage of those that do. There are a few rules of thumb for responding publicly to reviews:
Do not respond to all reviews—it's hard to keep up and may look less than genuine. Instead, strive to respond to all or most negative comments, as well as those positive comments that may highlight an aspect of personal attention or detail that patients would otherwise not know about.
In general, you should respond to negative reviews wherever possible. Readers tend to see positive reviews as self-serving, patting the patient on back for his or her own good taste, while they may assume negative reviews were directly caused by the patient experience and therefore more valid.
In any response, thank the reviewer for their time and feedback—no matter what the truth is, your sanity and your public image do best when you assume that reviewers are trying to help you, not hurt you.
By responding maturely, acknowledging critique and vowing to do better, you not only have a good chance of winning over the reviewer, but readers of the exchange as well. Research by TripAdvisor, for example, found that 79% of the readers of negative reviews say they are reassured by responses from business owners.
How to respond to Negative Reviews
Negative reviews can significantly impact the ability of a practice to attract newer, younger patients —especially if the practice has only a few reviews to begin with. Even worse? Negative reviews that go unresponded….
Dealing with negative reviews doesn't have to be hard, and it can even be leveraged as a marketing and branding opportunity.
Why respond to a negative review?
Unfortunately, you can't just ignore a bad review until it goes away.  Because – firstly, it wont and secondly – You're not just replying to just the one reviewer. You're speaking to everyone who reads this review, including potential future patients.
Replying is your opportunity to make things right. If a patient brought a complaint to you in person, you would try to make it right. The same goes for online reviews—despite the impersonal nature of online reviews, it's not over just yet.
Replying shows other readers you are not neglectful to feedback, and have taken steps to ensure this problem won't happen to the next patient.
Tips for responding to negative reviews
The best thing to do when you receive a bad review is react quickly and strategically. Here's how your practice should respond to negative reviews, and make the most out of a less-than-pleasant situation.
Relax. If you're the practice owner, take a deep breath before responding. Remember that there's no such thing as a bad review.
Say thanks. The patient took the time to right a perceived wrong. You may disagree, and the patient may be ill-informed, unfair or vindictive, but he/she has created this opportunity for progress.
Don't try to win the argument. You can't. And when the argument plays out in public, you will lose big. An ageless law still holds true in the digital age:  the customer is always right.
Decide whether to address the issue publicly or privately. Experts are divided:  Some point to the risk of a public exchange becoming messy or unwieldy as a reason to take it offline, while others point out the benefit of demonstrating superior customer service in an open forum. For some professions, however, navigating a public response is even more complex. Physicians can't respond with specifics that compromise patient confidentiality. You will have to use your judgment.
Take responsibility. Apologize for the patient's subpar experience, accept fault and explain what went wrong if you can. Be appreciative and positive, or at least fake it.
Take the big picture into account. When positive reviews of a practice outweigh the negative, readers typically dismiss or rationalize any negative comments in the business's favor. But when there's a preponderance of negative opinion, readers will attribute it to legitimate service failures. The latter requires a stronger response from the practice.
Consider compensatory action carefully. You want to avoid the appearance that the practice rewards complaints, but sometimes compensating the patient for their trouble is the most appropriate response. If the reviews suggest an extensive or undeniable failure, giving the affected parties a voucher or other real compensation shows a commitment to accountability that will give new patients confidence in the practice.
If you make amends, suggest an amendment. If things resolve amicably and you deem the negative comments to be unduly damaging, you can request—not demand—the favor of the patient editing or removing his comments.
Make the resolution known. If you resolve a patient issue in private but the negative review remains, let readers know that it was handled offline:  "Thank you for bringing this issue to our attention. As discussed on the phone…"
Research shows that customers care about fairness and accountability, and a so-called "service recovery" of the kind described above can convert a dissatisfied patient into a satisfied, loyal one. But it's critical to satisfy both the complainant and the future readers of the exchange, which could live online indefinitely.
Given the stakes of the game and the nuances of playing it, the person charged with responding to reviews should be empowered to make important decisions, have an intimate knowledge of the business and demonstrate decent tact and writing skills. An outside consultant can be successful but needs to provide more than generic or canned responses. Canned responses always seem, well, canned, and may give a worse impression than not responding at all.
When you Google yourself, what do you see? Even the top 20 big brands who blanket the web with content and PR see that 25% of search results on their brand are user-generated content.  
In the Age of the Customer, the power balance and information asymmetries of commerce have tipped away from marketers and business owners toward customers. Or have they?
Patients now have a powerful voice, access to critical information, and shared memory afforded by online reviews. While it may seem like this empowerment of the customer should come at a cost to businesses, in fact businesses have gained immensely, too. Consider what we as marketers and business owners now get for free:
Our most trusted and effective marketing is being done for us by volunteers
Those volunteers surface more info about our offering than our own advertising can, and that helps differentiate it from the alternatives
Our customer service now serves multiple ends: creating customer satisfaction and broadcasting it to potential new customers
We get focused, real-time business intelligence to assist in quality improvement and competitive analysis
In order to unlock all of this value, we only need to decide how we're going to do it, what tools and tactics we're going to use, and to what ends. My hope is that this little volume has given you some motivation and ideas to get you working with online customer reviews in a proactive and fruitful way.