A Hands-On Guide to Getting Found In Google/Bing Text Searches
We are picking up from our self-help series for practices. The self-help series can be found 
here
 and will be updated as we continue to add content. In this article, we are going to dive into 
the importance of getting found on Google, Bing, and other search engines' text searches.
Why Is It So Important to Rank on Search Engines?
To obtain new patients and grow a practice, healthcare providers must explicitly focus on improving their visibility in Google and other leading search engines. Acing the SERPs helps more patients find their way to your practice. It establishes you as a forerunner when it comes to local SEO and develops the authority of your business on the Internet.
In our previous fragments of this series, we talked about the importance of Digital Marketing already. We've discussed how consumers depend on the Internet to find the products and services they need. When it comes to making a decision on which one to pick, the search engine results play a huge role.
The scenario for the healthcare industry is no different. About 77% of online health seekers turn to search engines to find a doctor they can trust. That's your cue – search engine results are IMPORTANT. If you haven't still been putting in enough effort, now is the time to get started.
Now that you know the "why," let's take a look at "how" you can make your website so adept and efficient that it performs brilliantly across all search engines.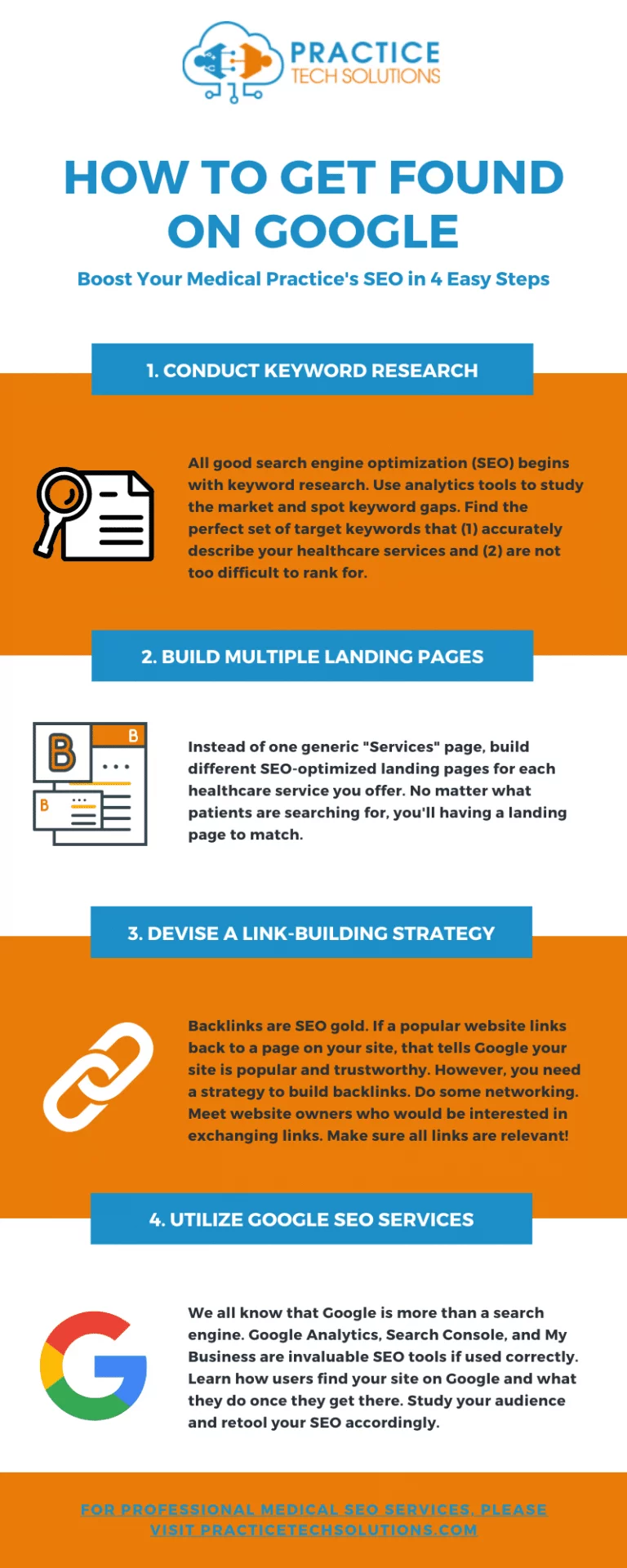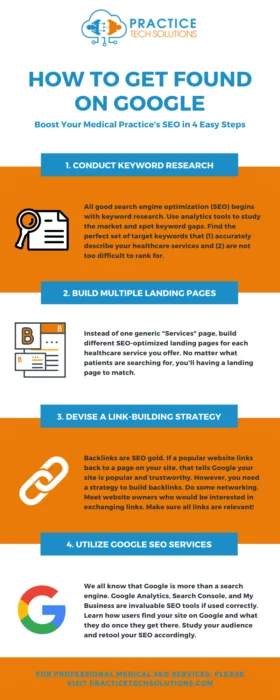 A Hands-On Guide to Getting Found In Google/Bing Text Searches
How to Optimize Your Website to Perform Better on the SERPs?
When we say optimize a website, we mean to make the necessary tweaks to it in terms of the content, structure, design, etc. so that it is user-friendly as well as inclined to perform when on search engines.
Given below are some fundamental factors to consider to optimize a website:
Conduct a Solid Medical Keyword Research
While your site is under-development, it is best to identify the best medical terms that fit your practice and the care that you offer. Consider the conditions that are being searched by people using tools like Google Keyword Planner or SEMRush. You can always get a professional to help you determine the best keywords for your target based on the search volume, location, and service offers are.
Develop a Keyword Strategy
Once you have your keywords, devise a strategy to use them to bring in leads and walk-ins. Filter out the best match keywords and categorize them based on two-to-four-word phrases, search volume for the particular location, and the competition faced.
Based on the latest semantic ranking algorithms, your webpage has the potential to rank for a group of similar and different keywords. Hence, you should map your keywords based on the current content architecture of your website.
Pay Attention to the Content
Content is the king – you may have heard a lot of digital marketers say this. Believe us, when you pay attention to the content and update the website with new information, you establish yourself as a reliable source and an expert in the area. That's what the search engines and ranking algorithms love. Make sure you speak about the latest trends in the content of the website and, of course, use the right keywords while doing so.
Focus on the Technicalities
While keywords and content are the parts where you can get as creative and experiment as you like, but some parts would require you to pay attention to the technique. For example, having the right URL taxonomy is essential, the proper use of sitemaps and robots.txt should be followed, the design should be user-friendly, the meta tags should be of specific formats.
Pay Attention to Link Building
Link building is an Off-site SEO technique where you are required to use the power of content to bring more patients to your website, eventually to the practice. With this, you must create links to your website using a variety of strategies like:
-Guest Posting
-Article Submissions
-Business Directories
-Local Citation (Sites like GMB, Yelp, etc.)
-Forum Participation
-Press Release Syndication
-Visual Link Building (videos,
infographics)
There are a variety of paid and free tools that can be used to track performance and further improve the strategy to do even better on the text searches. Some of the best tools that you should lay your hands on are:
-Google Analytics
-Google Search Console
-SEMRush
-Moz
-Ahref
-Google Tag Manager
-Screaming Frog
A Hands-On Guide to Getting Found In Google/Bing Text Searches
Make the most of your website by using these techniques to position yourself as a leader on the search engine results.
Google and other search engines are looking to make sure your site is active and consistently being updated.
Therefore, it is vital to take control of your content and SEO strategy to improve your rankings and hit that high traffic mark you need to grow your practice.
Looking for expert service?
Look no further. Our team will help you navigate to the top of search engine results!