Ultimate Guide To Starting Your Own Mental Health Practice
Since the pandemic, the national mental health crisis has spiraled into troubling proportions.
People were not used to being forced to work from home or stay indoors for prolonged periods of time, and in many cases the lack of social interaction led to depression, isolation and a myriad of other problems. As a result, our mental health as a population was at risk of plummeting into a negative space with no real direction on how to get out of the cycle and no real plan on how to stop feeling so bad.
In addition to the mental health crisis, there's a shortage of medical health practice professionals in this country.
One in three Americans is living in an area without proper mental health services. That means that even if people want to get help, it's not always available to them in their area. Those who are employed in the mental health care field are becoming overworked and underpaid. Many psychologists and social workers find their cases stacking up while still being expected to survive on the same pay.
These health care workers won't be in the field forever.
Many of them are aging and will soon find themselves retiring, leaving more space left to fill. Clearly, a solution has to be reached to treat more Americans with mental health concerns while populating the field with qualified medical health professionals.
Mental health practice: a growing field
The Bureau of Labor Statistics reports that the demand for mental health professionals will increase by 20 percent from 2012 to 2022. In fact, Arizona State University reports that there is a nationwide shortage of social workers and that the number of students graduating with a degree in social work has actually declined over the past decade (ASU Online). This means that there will be more demand than supply of mental health professionals for years to come.
As a result, there will likely be more mental health professionals entering the field with advanced degrees to fill these needs. However, many of those who have been working within the field are being asked to take on an unreasonable amount of work. This often leads to unhappy and burnt-out workers, which can be dangerous for their clients.
Education level as a mental health professional
Some fields within the field of psychology do not require advanced degrees. For example, there are no licensing requirements to become a school counselor or substance abuse counselor (Bureau of Labor Statistics). These fields do not require a doctorate, but they may require additional education and training in order to specialize in areas such as work with children or veterans (Bureau of Labor Statistics). They also prepare counselors for independent practice and/or research within their area of expertise. However, it is important to note that each of these fields requires additional training and specialization. Additionally, many of these positions are located in certain areas of the state due to the local need for services. This is why it is important for counselors to have a plan B because they may find themselves unemployed if their field lacks an available position.
The Bureau of Labor Statistics reports that the median annual wage for school and career counselors is $53,490. However, like psychology and social work, many working within this field are overworked and underpaid (ASU Online). This is partly due to a nationwide lack of funding available for schools. This often leads to school counselors taking on more work for less pay.
The Bureau of Labor Statistics reports that the median annual wage for substance abuse and behavior disorder counselors is $42,480 a year. However once again, many working within this field are overworked and underpaid (ASU Online).
What are typical startup costs for a mental health practice?
The cost of starting a mental health practice depends on the type of practice you want to open, how much debt you take on for startup costs, and if your state requires licensure. According to the Bureau of Labor Statistics, there are four types of counselors that can open their own practices: Licensed Professional Counselor (LPC), Licensed Marriage and Family Therapist (LMFT), Licensed Clinical Social Worker (LCSW) and Certified Rehabilitation Counselor (CRC). These counselors may need to acquire additional training in order to be able to work with certain populations, such as incarcerated individuals. However, it is important to note that each state has different licensure requirements, so you will want to do your research on the state you are interested in obtaining a license for.
The cost to obtain licensure will vary depending on your location, so it is best to contact your state board of education or education department for more information.
One-time vs. recurring costs
One-time business expenses are those that only occur occasionally or sporadically during the course of your business operations. These can include hiring an accountant or lawyer to help prepare tax returns, paying for legal services and fees to use a certain software. They can also include spending on marketing and advertisements, purchasing new equipment and filing copyright protection for your business name or logo.
Recurring costs are expenses that will come up continuously in the operation of your business. This usually includes things such as rent, utilities, office supplies and salaries.
Common Mistakes to Avoid When Starting Your Own Mental Health Practice
Not doing your research is the biggest mistake you have the power to avoid. If you don't know the answers, find them. Preparation for the financial, logistical and other problems you'll run into will go a long way in avoiding unexpected costs. Here are just a few mistakes to avoid when you're starting your own mental health practice.
ailure to get credentialed before opening your practice- Verify that you can accept and get paid by Insurance prior to signing a lease, putting down deposits, or investing in equipment. This is crucial to know at the very beginning of opening your own practice.
Not knowing your financial limits. Start operating for free for a while with low overhead expenses to get clients in the door, build your skills, and get experience.
Not knowing your target market. Who are you serving? Where are they located? What kind of treatments do they need most? Do you have expertise in their needs? This is very important to know before building a practice.
Not budgeting for costs such as general liability insurance, professional liability insurance, self-employment taxes, Practice Management System licenses, and NPI certification.
Not investing in the business side of the practice i.e., secure email, dedicated business lines, and a professional website.
Not taking referrals and marketing seriously: the lifeblood of any small practice is positive word of mouth.
Seven tips to help start any therapy private practice right
Cover these basics and you're off to a great start.
Put together a good business plan: The keystone for any successful practice is a well-thought-out business plan. This includes a thorough budget, deciding a specialty, staffing decisions, etc.
Take the medical credentialing process seriously: Without your NPI, getting paid will be a nightmare.
Find a reliable partner for MSO needs: What most mental health professionals quickly realize, if they weren't aware already, is how large of an aspect the business side of their practice will be. From filing insurance claims to billing clients, there is a lot to consider.
Don't over-invest in office space: When just starting, a large office can be an unnecessary expense. Sharing space or subletting can be attractive options.
Compliance is no joke: Ensuring a practice is HIPAA-compliant will require special measures to be taken, examples include secure email and record filling systems.
Other local business regulations will also apply.
Clinical forms: Templates may be available from your local professional organization.
Market great work: Connect with patients, help others, grow as a practice.
Check results: Define success and check measurables to make sure everything is on track.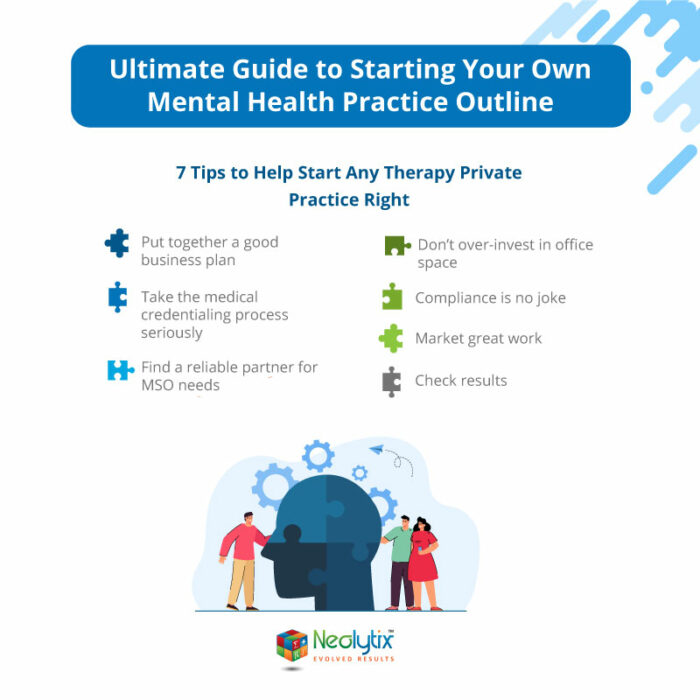 Let Neolytix help ease your move into a new practice
Getting credentialed with Insurances can be expensive. So is hiring a professional who can provide effective results in marketing your practice. Neolytix can help!
If you are a new provider planning to start – Partner with us and we will help get you credentialed, build a website, get you on local searches to attract new client – all in an easy instalment plan that suits your budget!
Neolytix: The smart choice for mental health practices MSO needs
Mental health providers are busier than ever and the need for a reliable business partner has never been greater. Neolytix has experience helping new mental health practices realize their full potential. We customize services for your specific needs. If you need help and would like to discuss how we can partner in your new practice, give us a call.