Reviews are not worth Managing?
As a medical practice, a lot of doctors feel that the time and money needed to be invested in building a strong online reputation is not worth it. While the Industry at large is bucking that trend with more regulations like CAHPA Clinician & Group Surveys becoming mandatory for certain Healthcare providers and consumer trend gaining traction with smaller providers, it is a viewpoint that is created with some past facts that medical practitioners have seen.
My attempt in this post is to present some useful information which presents a different viewpoint on why you need to invest time and money in managing your online reputation and why that is the key to you being and staying an independent medical practice.
Her Doctor almost killed her….
That's Wendy Wester's claim.
She went to see Dr. Alan Brown, an orthopedic surgeon after her knee injury, when she was hurt skiing. Brown diagnosed her injury as an MCL tear.Wester was rushed to the emergency room after she experienced severe pain. Doctors ordered an MRI and found she had also torn her ACL, LCL and Meniscus.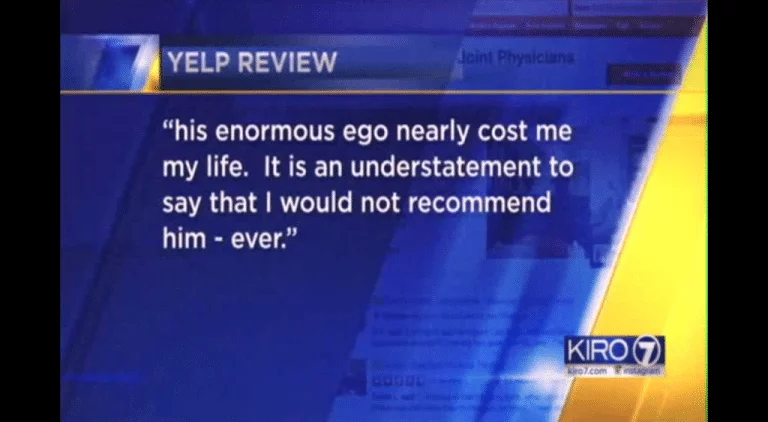 The MRI also showed she had a blood clot in her leg. A blood clot that could have killed her.
Dr. Alan Brown, Wester's doctor, decided to sue her for defamation after Wester stated in her review that "his enormous ego nearly cost me my life."
The stakes are often higher when it comes to medical services. Especially when people's lives are on the line. An online review about Pizza Hut, positive or negative, doesn't have as much weight or consequence compared to the effect online reviews can have for medical professionals.
Online reviews often create all types of dilemmas for doctors to sort through.
All too often, practices dont know how to handle negative reviews……..
Many medical practices simply don't have the experience they need to handle negative reviews. Practices simply want these reviews gone. They feel slandered or bullied by their reviewers.
Sometimes they're right.
Because from their perspective, they have a lot to lose.
A Harvard study found each star in a review affected the business owner's sales by 5 to 9 percent. Berkeley economists found an increase from 3.5 to 4 stars on Yelp resulted in a 19 percent increase in business for a restaurant.
Clearly there's a lot of money at stake.
What's worse is the fact that customers aren't always honest about the reviews they post.
A Yelp reviewer known as Dan. W, posted a one star review of Wonderful, claiming staff refused to seat him as he was alone. He mentioned waiting around for a table then leaving.
Here's his review.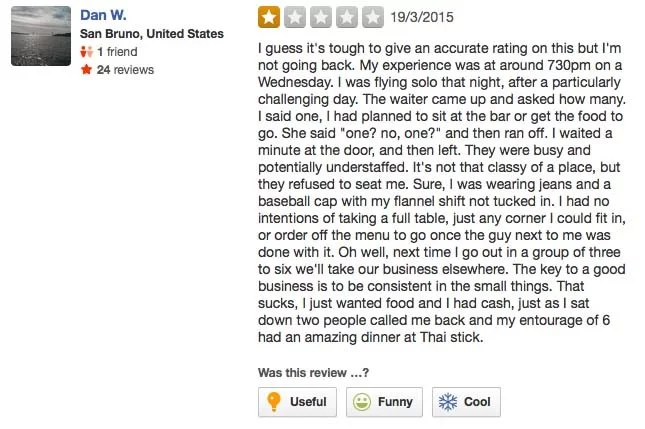 Dan. W didn't speak to anyone in the restaurant. In fact he was in the restaurant for 22 seconds before leaving, and posting his hostile review.
How do we know? The restaurant owners caught him on camera.
It's not just Yelp.
Practices are struggling to deal with these types of customers across a variety of channels. For service professionals like doctors, dishonest or misleading reviews can have much larger consequences. But, why?
Doctors have historically been viewed as specialized, elite. Culturally for many, many years and before the age of reviews, they were able to attract and retain customers based almost entirely on or around their status in society.
Things have changed. They are more and more viewed as commodities.
"If I don't like you there's a dozen others that can do what you do."
There's a dozen others who are…
More caring, attentive and professional. There are a plenty of other doctors who are more focused on customer needs and concerns. That's a customer's perspective going in.
What if you're not willing to do what it takes to earn their business? If you're not able to get the results they want, they'll simply take their business elsewhere.
But it isn't just about results. Customers focus on a wide variety of details in their reviews including…
The cleanliness of your location
Your "bedside manner" and overall demeanor
Whether you're relatable and easy to understand
Whether you succeed in solving their problem (e.g. winning their case or relieving their pain)
Wait / response times
Support staff performance
Your performance overall and their impression of you overall
These details (or their counterparts) matter in other industries. The status, expectations and risk involved in healthcare are far reaching and potentially devastating.
Know how to handle a negative review…..
Too often, they're handled in a reactionary way.
The stories, the court cases, go on and on. Over and over we see practices struggling to accept a customer's opinion of them.
Professionals in these industries are used to a certain amount of prestige and social capital. But that is slowly fading away.
In our next post – we get down to the brass tacks of how to handle negative reviews. Stay Tuned!