Online Patient Reviews – Mythbusters
So we continue our conversation on Reviews and their importance (refer to the last post titled Why Patient Reviews matter?). This time, we talk about the common myths associated with reviews specific to Practices, what parallels research has been able to draw and what is the truth behind the myth – the mythbuster way! (with all due respect to Adam Savage & Jamie Hyneman of the original and awesome Mythbusters show!!!)
Becoming a Doctor is hard and being able to sustain the hard lifestyle that many doctors endure is a test of patience. Most of the doctors are in the profession because saving lives and empowering patients to take better care of their health is such a fulfilling experience.
Independent practitioners often focus their energies on their business to the exclusion of leisure, hobbies, even vacation and family. But they may also project this mindset onto their patients and assume that if anyone is going to volunteer their time to write about a business online, it's going to be a handful of friends and family or else some seriously aggrieved patients.
In fact, patients have a wide variety of motivations for rating and reviewing the patient visit experience, both altruistic and self-serving. And as it turns out, the vast majority of online reviews are positive across products, services, industries and online communities.
A study by Keller Fay Group and Bazaarvoice found that so long as posting a review is relatively easy, the review distribution in any given community tends to follow a "J-curve" with positive reviews outweighing negative reviews 8 to 1.
Still, negative reviews are over- represented on review sites thanks to the so-called "adverse reviewer problem"—the truism that disgruntled patients have a greater-than-normal incentive to bad-mouth doctors online. These people know that complaining publicly creates attention for them and pain for the practice that "wronged" them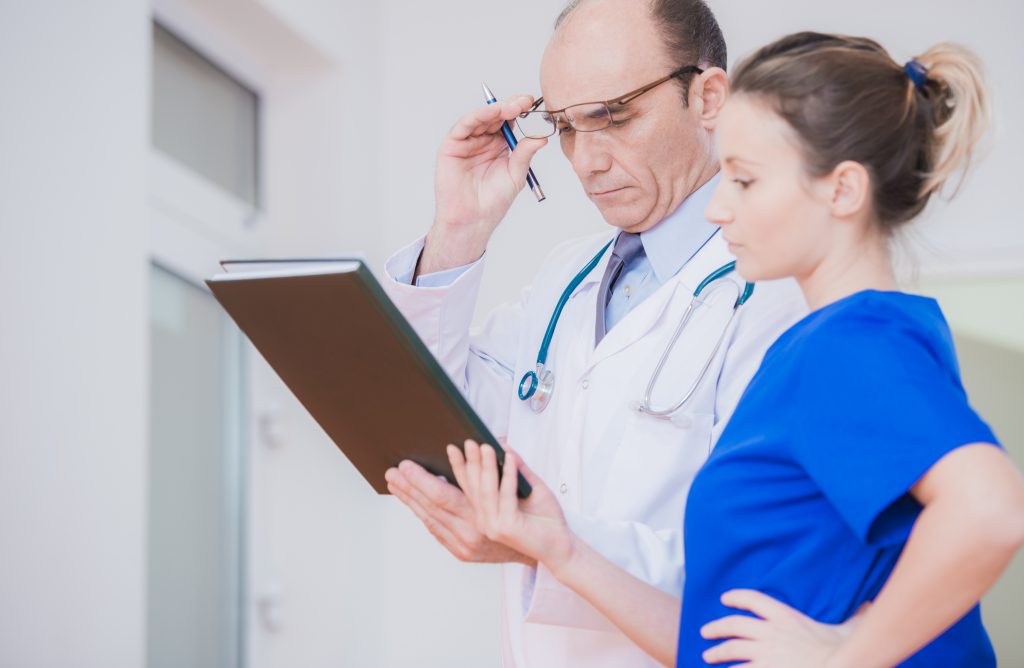 Some popular recent statistics about the power of reviews and ratings come from researchers who were able to show a causal relationship between Yelp star ratings and restaurant activity and revenues. One study demonstrated that an extra half-star rating on Yelp causes restaurants to sell out up to 49% more frequently at peak hours.  Another found that a one-star increase on Yelp yields a revenue increase of 5% to 9% for restaurants.
These are eye-catching numbers. Why should a business care about anything other than the number of stars patients are giving it?
A four- or five-star aggregate rating on a review site can seem a very satisfying achievement, but as marketers we know better. Patients who look to reviews for insight aren't sheeple, after all. They actually do read reviews and consider ratings in context, and they increasingly cast a critical eye on both. In fact, they probably view a blank or flimsy 5-star review with loads of suspicion, and rightly so: fake reviews are all too common these days.
Fortunately, prospective patients also scrutinize negative reviews. They know that very low ratings typically reflect just a single aspect of the total patient experience. For example, product reviews that complain of poor customer service are almost universally voted down by potential buyers because they are seen as self-important and unhelpful for evaluating the product itself.
For hotel ratings, we see the same thing: In an analysis of one-star hotel ratings on TripAdvisor, researchers noted that the most prominent issues driving dissatisfaction were front desk service issues, "principally those involving front desk staff responsiveness and empathy" – An issue not too far away from most of the negative reviews we see for medical practices online.
But if you're a patient who's more interested in the reputation of the doctor and their experience with patients, those reviews are not likely to sway your booking decision. One study examined exactly what makes a review persuasive and found that the quality and content of the reviewer's argument is by far the most important factor to most consumers. Other factors such as the reviewer's bias or expertise had little impact on a review's credibility.
So, it turns outs, substance matters more than surface in online reviews.
Most of us appreciate constructive criticism, though we prefer it to be private. Negative online reviews, however, are not always constructive, and they're never private. For practice owners, a bad review can literally ruin your day. You find yourself angry at the reviewer, your staff, yourself. You're paranoid that the next patient you serve is going to turn around and stab you in the back. And you worry about the consequences of a bad review just sitting out there. There's nothing fuzzy about the logic of this situation:  Good reviews make good reputations, bad reviews bad ones. Right?
One has to keep in mind that extremely positive and extremely negative reviews are never the most persuasive. A review that gushes about a given bakery might be read as the reviewer's self-administered pat on the back for his fine taste. A review that rues over a shoddy trim job by an otherwise respectable lawn service might be seen as an empty screed by one of those people who's never satisfied.
In fact, it's the diversity of voices and opinions that create authenticity and ultimately value in a business's online reputation. In evaluating a product or service, consumers want to hear from more than just its ranters and ravers. They triangulate on the truth from many points of view.
If this all sounds like so much hocus pocus and wishful thinking, it isn't. Research has actually corroborated the fact that readers of mixed reviews form more positive judgments of a brand than those exposed to positive reviews alone.  Not that you should seek negative reviews, exactly, but rather recognize that when they do occur, they must be viewed in context and can be used to your advantage.
(More on this in the next article covering How to respond to Negative Reviews)
Unless they completely overwhelm the conversation about a practice, negative reviews create opportunities to build your reputation more than they dismantle it. But you have to be paying attention.
Praise is good. Everybody likes praise. The more praise we get, and the more glowing it is, the more we outshine our competition. So why should a business want anything other than glowing praise in its patient reviews?
Positive reviews are good, but substantive reviews are better. To be meaningful—that is, to pique interests and sway purchasing decisions—a review should relate how real patients experienced the practice so that other real patients can decide whether that practice is a good fit for them, too.
In providing gritty detail, such reviews often highlight aspects of a practice that you, as a marketer, maybe never thought about and would never have advertised. (Examples: the doctor remembering something about what a patient mentioned in their last visit, a boutique's own jeans brand runs a bit small; a restaurant's portion sizes are Weight Watchers-friendly; a staff member is particularly quirky or humorous.)
This "highlight effect" is good:  It provides additional hooks to get new prospects in the door and steers them to what they're looking for— or away from what they're not. Positive, negative or neutral, it's reviews with substance that do the most for patients and therefore for the practice under review. Not to mention that richer reviews also make better search engine fodder, casting a wider net of content that can potentially place the reviewed practice listing higher up in the search results for diverse queries and keywords.
In this Age of the Consumer, patients have unprecedented means by which to voice unfettered opinions:  hundreds of online review sites, ubiquitous social media channels, and hand-held apps that connect them to communities of other consumers 24/7. If top brands and Fortune 500 companies have trouble keeping on top of their reputation in this environment (and they do), what hope does a small business have? Shouldn't a small business focus on its product or service and let its reputation take care of itself?
Consider the golden nuggets of opportunity we've uncovered so far:
Consumers trust each others' opinions more than expert opinions or any form of advertising
Pretty much everyone turns to online reviews to help them make a purchase decision
Patient reviews tend to be favorable, but few of us actually write them, leaving more positive sentiment to be unlocked
Some negative reviews help a business look more authentic and provide a chance for it to showcase its service in its response
All reviews can help qualify patient leads and boost the visibility of a business
Online ratings and reviews have the potential to be the single most effective and rewarding marketing channel for small and local businesses, and yet most marketers and business owners do very little to foster and shape reviews because they assume it's out of their hands. They take a wait-and-see approach—forever.
A little bit of attention to patient opinion goes a long way. Here, what Forrester calls "the four Vs" are always building on each other:  the greater the volume of opinion shared; the greater velocity at which it's disseminated; the greater visibility it has; and the greater volatility it shows as one experience tips off another.
We're going to cover what to do to keep these four Vs growing in the right direction for any business in the next couple of articles.