4 Proven Facebook Advertising Case Studies for Medical Practices
The days of asking "should my business advertise on Facebook?" are past. Along with Google, Facebook is the largest digital advertising company in the world, and the benefits of Facebook advertising for medical practices are undeniable.
If you own a practice that provides services to clients, you should have a presence on Facebook. The real question is: how are you managing it?
Facebook ads, and online and PPC ads (pay-per-click) more generally, are a great opportunity for medical practices to connect with current clients and get new leads. With the new Facebook and Instagram Shops, advertising on Facebook will only become more essential to healthcare practices and small businesses of all stripes.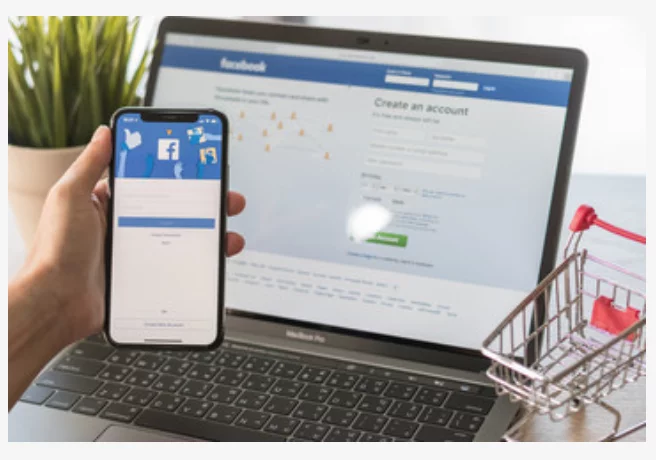 Facebook Advertising for Medical Practices​
The following four case studies on Facebook advertising for medical practices were taken from actual clients handled by a digital and social media professional at Practice Tech Solutions.
None of these medical practices had tried Facebook ads before. But with a bit of expert help, each saw an immediate influx of new leads and a clear return on investment.
Within weeks, these four businesses had acquired dozens of leads and saw thousands of dollars in service value. See below for more details on how Practice Tech Solutions could do the same for you.
Case #1: Prime Women's Health​


Service Advertised: MonaLisa Touch® laser therapy
Service value: $1,500
Prime Women's Health (recently rebranded) is a clinic in Ontario, Canada. They offer the MonaLisa® vaginal laser therapy for restoring the health of the vagina and bladder after menopause.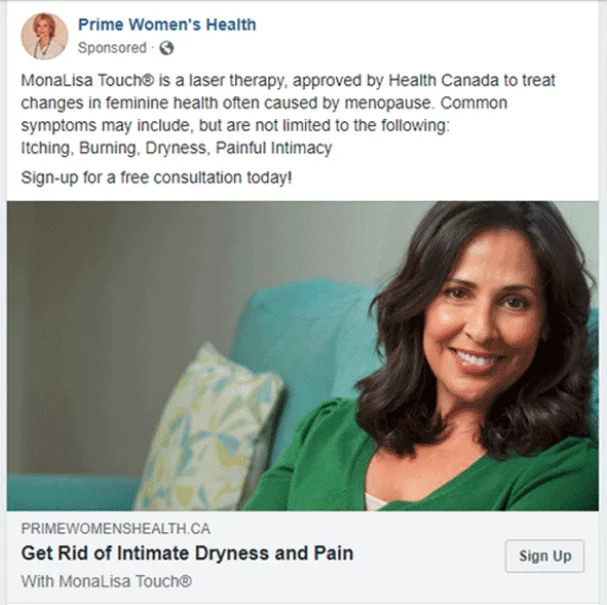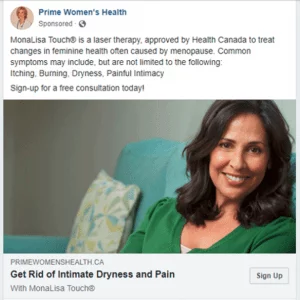 PWH initially had no Facebook advertising at all. With a few professionally designed Facebook ads, PWH reached 6,604 unique Facebook users and obtained 12 new leads in one month of audience-targeted advertising. With a service value of $1,500, this translated to $18,000 in revenue that month.
Based on the number of clicks on the ads, Facebook charged an average of $40.09 per new lead. This means that PWH saw $17,518.92 of additional profit from its Facebook advertising during that month.
As an additional service to PWH, A/B testing, also known as split testing, was performed with their Facebook ads. This means that two variations of the same ad were shown to different segments of Facebook users at the same time.
By measuring the conversion rate of each (how well the ad was able to convert website visitors into new patients), PWH was able to optimize advertising strategy, improved user experience, and secure a steady stream of qualified new leads.
Case #2: Vimi Laser & Skincare Clinic​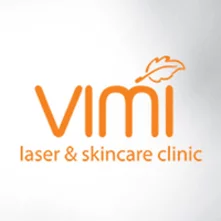 Service Advertised: Cool sculpting; skin care; hair removal
Service value: $800 minimum
Vimi Laser and Skincare Clinic is a health spa in Ontario that offers a full range of spa treatments. These range from laser hair removal and skin care to their HydraFacial skin resurfacing treatment and trademarked CoolSculpting® treatment for non-surgically slimming down unwanted fat.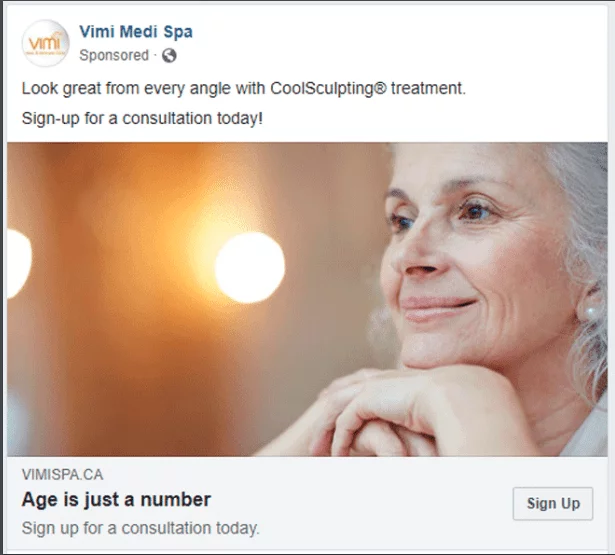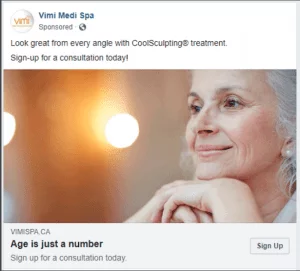 Like Practice Women's Health, Vimi initially had no Facebook advertising strategy. With the guidance of a marketing expert, Vimi acquired 8 new leads after 15 days of service—that's one every other day including weekends. With a starting service value of $800, this gave Vimi a minimum of $6,400 in new revenue. The total reach was 3,876 users.
Factoring in an average cost per lead of $39.72, Vimi saw at least $6,082.24 in increased profits thanks to their Facebook advertising strategy.
As with PWH, A/B testing was performed with Vimi's Facebook ads. During the test, it quickly became clear that one ad produced a much higher conversion rate than the other. This allowed them to select the ads that drew the most leads and optimize Vimi's marketing strategy.
Case #3: FemCare Medical Associates​

Service Advertised: MonaLisa Touch® laser therapy
Service value: $2,400
FemCare Medical Associates is a full-service OB/GYN located in Pomona, California. They offer innovate and state-of-the-art treatments. These include robotic, minimally invasive surgical procedures using the da Vinci® robotics system as well as the MonaLisa Touch® laser therapy.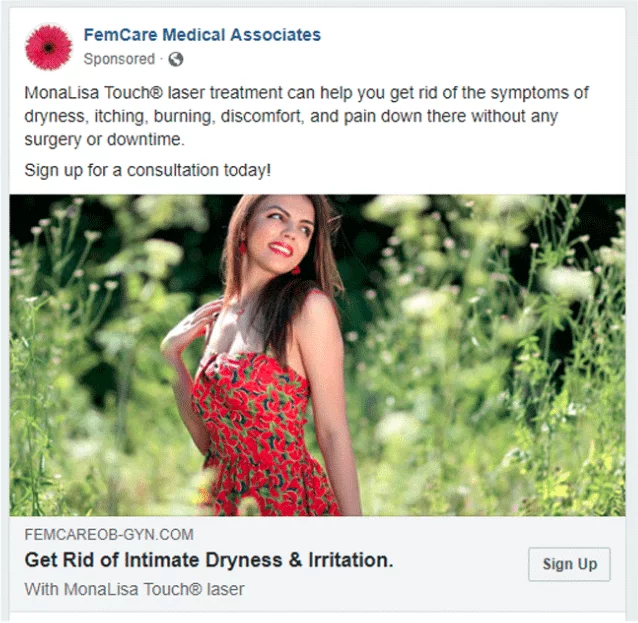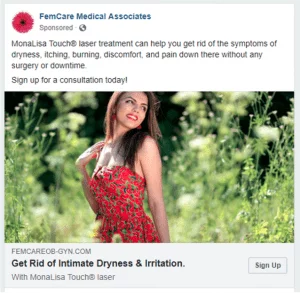 FemCare gained 7 leads in the first 15 days of Facebook advertising, at a cost of $47.86 per lead. The total reach was 4,725 individual accounts. As with Vimi, FemCare's new leads arrived at a rate of one every other day. This resulted in a whopping $16,800 in added revenue.
Subtracting the cost per lead, FemCare went home with $16,464.98 in additional profit.
All of FemCare's ads were professionally designed to fit within Facebook's text overlay limit. If you're not familiar, Facebook requires that no more than 20% of an ad image be covered with text. This is based on studies showing that customers prefer ads with that amount of text or less.
Facebook has other, lesser known rules and regulations for its ads. Luckily, Practice Tech's digital marketing expert knew these rules inside-and-out and designed FemCare's ads specifically to optimize new leads while also following Facebook's guidelines.
Case #4: Still Beauty & Med Spa​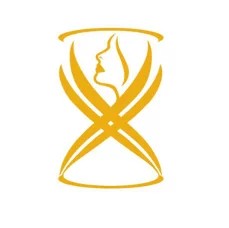 Service Advertised: Acne scar removal; wrinkle reduction
Service value: $1,000
Still Beauty is a medical spa in Ontario. They provide the Icon® Laser skin treatment for non-surgically reducing visible lines and wrinkles.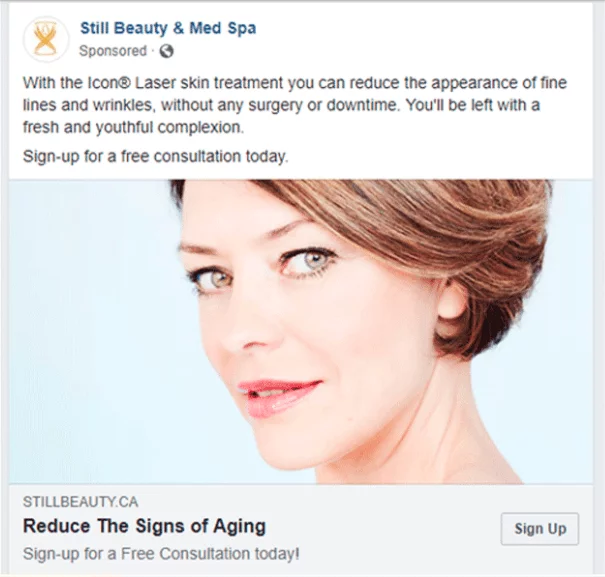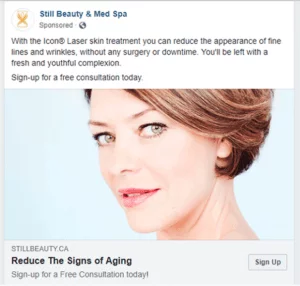 Still Beauty's ads reached 4,237 unique users and acquired 5 new leads in one month. An interesting feature of this case study is that the average cost per lead of Still Beauty's ads ($26.56) was very close to its average cost per click ($19.85). This means that a very high percentage of users who clicked the ads were converted into clients.
Factoring in the costs, Still Beauty saw $5,000 in revenue and took home $4,867.20 in new profits.
These studies show that Facebook advertising for medical practices, when done right, produces a very quick return on investment. The results are summarized below.
| | | | | | | |
| --- | --- | --- | --- | --- | --- | --- |
| Healthcare Practice | Reach | New Leads | Value per lead | Cost per lead | Cost per click | New Profit from Advertising |
| Practice Women's Health | 6,604 | 12 | $1,500 | $40.09 | $17.42 | $17,518.92 |
| Vimi Laser & Skincare Clinic | 3,876 | 8 | $800 | $39.72 | Not recorded | $6,082.24 |
| FemCare Medical Associates | 4,725 | 7 | $2,400 | $47.86 | $13.91 | $16,464.98 |
| Still Beauty & Med Spa | 4,237 | 5 | $1,000 | $26.56 | $19.85 | $4,867.20 |
In all four cases, Practice Tech's resident digital marketing professional helped small healthcare practices optimize their Facebook marketing while navigating a complex web of rules and regulations. Each company netted thousands of dollars of additional profit in one month or less.
To learn more about how Practice Tech can do the same for you, check out our social media marketing services.
For more articles on Facebook services and Facebook advertising for medical practices, check out: