SEO for Dermatologist clinics: How to find the right patients for now and the long term
Having a strong online presence is key to attracting and retaining patients. It is even becoming more important than referrals from other patients and physicians alike. 
According to research conducted in 2022 by Healthgrades, the emphasis on a strong online presence is very clear. One way to strengthen your online presence and attract the right patients for our derma clinic is by mastering Search Engine Optimization (SEO) for dermatologist clinics.
In this article, we will explore the quick wins, the long-term strategies, and the ultimate successes of incorporating SEO for dermatologist clinics.
Take a load off, grab a beverage, and watch the video below that will give you a better understanding of digital marketing for dermatology clinics and how to get more patients. If you're in a rush, skip past the video and continue reading the article.
What is SEO for dermatologist clinics?
Search Engine Optimization (SEO) for dermatologists, sometimes known as dermatology SEO, is a form of healthcare digital marketing and has the primary function of increasing the website's visibility on search engine results pages. When your website becomes more visible, it leads to an increase in the probability of clicks or people visiting your website.
SEO is a specialized process with lots of moving parts that should be fine-tuned to function in harmony if it is to have a positive influence on digital marketing for dermatologists. Some of these include but are not limited to keywords, functionality, content, etc. We will explore some of these strategies you should focus on, specifically addressing SEO for dermatology clinics.
How can SEO attract the right patients?
SEO runs touches every aspect of your website, and through optimization, it should resonate in such a way that it attracts the patients that you would most like to show interest in your derma clinic. The people that go via search engines and stumble upon your derma clinic are called organic leads.
Another way to attract patients is through pay-per-click (PPC) ads, but as the name suggests, every time someone clicks on an ad, you'll need to pay. Naturally, this is a more expensive way of generating traffic to your website, but it is beneficial to boost traffic in the short term.
How to improve SEO for dermatologist clinics?
1. Website health
The functionality of your website plays a big role in SEO. Broken links, slow loading speeds, etc. are all factors that penalize your website from a search rankings point of view. This includes using a mobile-friendly design, optimizing your page speed, and ensuring your website is secure with an SSL certificate.
In addition, your website should have a clear and easy-to-use structure that allows users to navigate to the information they're looking for quickly. Use header tags (H1, H2, H3) to organize your content and make it easy to read. Include internal links between pages on your website to help users find related content.
Before you set out to make any major changes to your website, it is vital that you do a website health check first to see what you can fix to immediately start improving your website's attractiveness to the search engine algorithms.
Get this out of the way now by requesting a free website health check now.
2. Patient persona: Identify Your Target Audience
Once you have a healthy website that's functioning well, you can now move toward adjusting the content to attract the right people. The first step in attracting the right patients is to identify your target audience. This includes understanding their demographics, needs, and search behaviors.
For dermatology clinics, the target audience is likely to be individuals who are experiencing skin problems or concerns, but their might be a certain target age bracket that you've determined are the bulk of your patients. Targeting this group specifically would be more effective.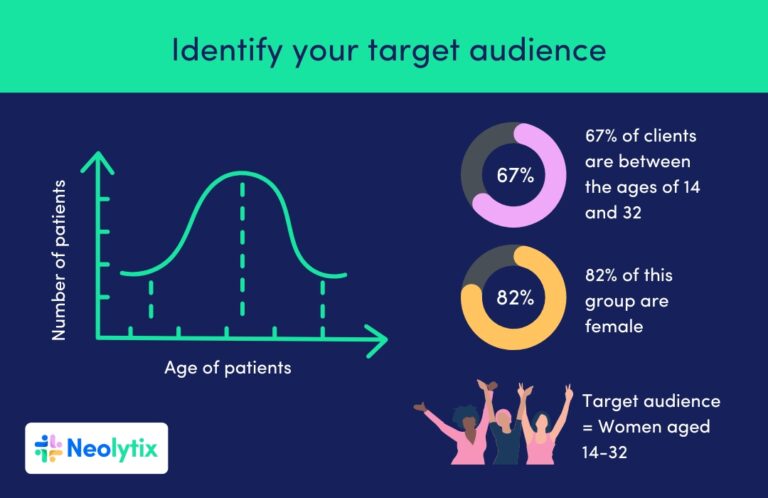 By understanding the needs and search behaviors of your target audience, you can create content that is relevant and useful to them. This will attract the right clients to your clinic, who are more likely to become long-term patients.
3. Develop High-Quality Content
Blogs, articles, videos, infographics, and more (otherwise known as content) are some of the most powerful SEO tools that will help improve your website's ranking. This means regularly creating or updating content that is useful, relevant, and engaging to your target audience. For dermatologists, this could include.
Your content should be focused on educating and informing your patients about dermatology topics, such as skin care, common skin conditions, and treatment options. By providing valuable content, you can attract potential patients to your website and establish your clinic as a thought leader in the field of dermatology.
4. Keyword optimization
When creating content, it's important to use relevant keywords and phrases that your target audience is searching for. For example, if you're writing a blog post about acne treatment, use keywords such as "acne treatment," "pimples," and "blackheads." This will help search engines understand what your content is about and improve your SEO rankings.
But keyword optimization isn't quite as straightforward and requires specific expert attention. Search engine algorithms change all the time, and what works today could be penalized tomorrow.
If you want to speak to someone about keywords and SEO to improve the online invisibility of your dermatology clinic, click here.
5. Build High-Quality Backlinks
Backlinks are links from other websites to your website. They are an important factor in determining your SEO rankings, as they indicate to search engines that other websites consider your content valuable and relevant.
Building high-quality backlinks can be challenging, but there are several strategies you can use. First, create high-quality content that other websites will want to link to. This could include infographics, whitepapers, and other forms of content that are valuable and informative.
Additionally, reach out to other websites in the dermatology industry and ask them to link to your content. This could include other dermatologists, skincare bloggers, and industry publications. Be sure to provide them with a compelling reason to link to your content, such as a unique perspective or new research.
6. Use Local SEO
Local SEO is the process of optimizing your website and online presence to target customers in your local area. For dermatology clinics, this is especially important, as most of your patients will be coming from the local community.
Make sure your website includes your clinic's name, address, and phone number (NAP) prominently and consistently across all online platforms. This will help search engines recognize your location and provide accurate information to potential patients.
Additionally, create a Google My Business profile. This is a free tool provided by Google that allows you to manage your clinic's online presence across Google, including search and maps. By creating a Google My Business profile, you can provide accurate and up-to-date information about your clinic, such as your address, hours of operation, and reviews. This will not only help patients find your clinic more easily, but it will also help improve your local SEO rankings.
7. Leverage social media
Social media can help boost SEO for dermatologists by creating and sharing content on social media platforms, dermatologists can increase their visibility online. When their content is shared or liked, it can be seen by a wider audience, which can lead to increased traffic to their website.
Social media can be a great way to build links to a dermatologist's website. By sharing content and interacting with other industry professionals, dermatologists can attract backlinks to their websites, which can help to improve their search engine rankings.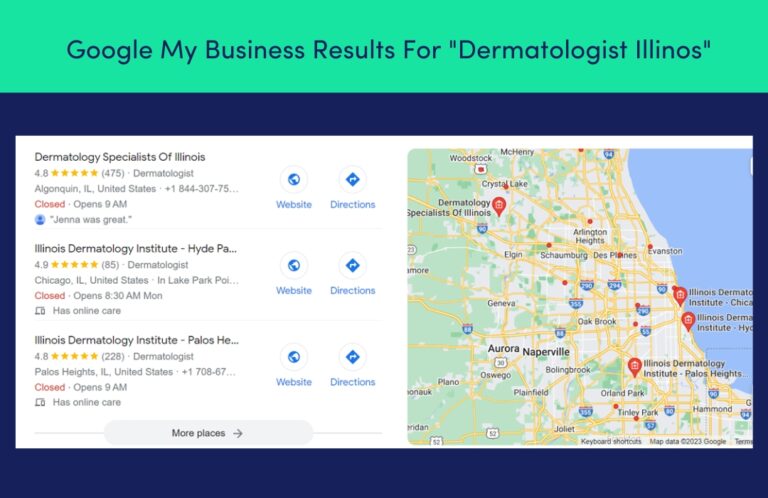 How to fast-track the efficiency and success of SEO for dermatologist clinics
Learning how to master SEO for medical practices, or specifically SEO for dermatologist clinics, is challenging, and although it's doable, it requires much time to master… Time that you could've spent with patients or regaining your work-life balance.
If you're looking for experts in SEO for dermatologist clinics with the accolades to prove it, contact Practice Tech Solutions today.
We have the knowledge and experience necessary to create and implement an effective SEO campaign that will result in more patients for your derma clinic. Fill out the form below or contact us today to learn more about our services and how we can help you grow your clinic.